The UAE's push towards Emiratisation – increasing the number of Emiratis in the country's workforce has taken on a new urgency as the bi-annual deadline of June 30, 2023, approaches. Companies with 50 employees or more are expected to meet a 1% Emiratisation quota for skilled jobs, with a potential penalty of up to AED500,000 ($136,000) for those failing to comply. This blog provides a comprehensive guide on how businesses can avoid penalties associated with the Emiratisation deadline.
Understanding Emiratisation Penalties
The UAE Cabinet's recent amendments under Resolution No. 44 of 2023 have introduced significant fines for companies evading Emiratisation targets. Violations leading to penalties include reduction of the workforce or altering employee classifications to circumvent the law.
Companies proven to bypass Emiratisation rules for the first time will face a fine of AED100,000 ($27,000). If the violation is repeated, penalties increase to AED300,000 ($82,000) for the second time, and AED500,000 for the third and subsequent times. These fines are expected to push companies to prioritise Emiratisation and avoid violating the law.
Meeting Semi-Annual Emiratisation Targets
Emiratisation aims for an increased representation of Emiratis in the private sector. The UAE government mandates private companies with 50 or more employees to achieve a 1% Emiratisation rate every six months, culminating in a 2% annual increase. Firms are also expected to reach a 10% Emiratisation rate by 2026 end.
June 30 is the crucial deadline for private sector companies to hit their six-month Emiratisation targets. Non-compliant companies face half-yearly fines of AED42,000 ($11,435) for every Emirati not hired according to the semi-annual targets.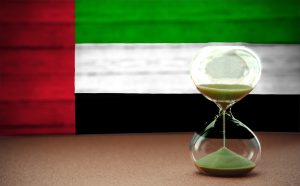 Steps Towards Emiratisation Compliance
Private companies must leverage the support offered by the Emirati Talent Competitiveness Council (Nafis) to recruit Emirati talents in skilled jobs. Nafis provides resources, training, and aid to help firms hire and train Emirati personnel, thereby contributing to Emiratisation targets.
The success of Emiratisation relies on expanding opportunities for Emiratis in the private sector and building a robust network supporting their career paths. The Ministry of Human Resources and Emiratisation (MoHRE) acknowledges companies making exceptional efforts to train and employ Emiratis.
The Positive Impact of Emiratisation
Emiratisation is more than a compliance mandate; it contributes to the UAE's socioeconomic development. The first quarter of 2023 saw an 11% surge in Emiratisation compared to the same period in the previous year. Over 10,500 Emiratis joined the private sector since 2023 started, bringing the total number of Emirati employees in the private sector to over 66,000.
To boost Emiratisation further, the UAE launched the 'Industrialist Programme' to enhance local capacities and increase Emirati representation in the industrial sector. This initiative, combined with compliance to the Emiratisation rules, is expected to enhance the UAE's economic growth and promote diversity in its workforce.
To avoid penalties, companies must proactively work towards achieving their Emiratisation targets. This initiative is not just a regulatory compliance but a drive towards fostering local talent, contributing to the UAE's diverse and thriving business landscape.
 Key Takeaway
With the Emiratisation deadline looming, it is crucial for companies to understand the implications of non-compliance and work towards achieving the set targets. Beyond avoiding penalties, embracing Emiratisation encourages local talent, drives socioeconomic growth, and contributes to a diverse and vibrant business ecosystem in the UAE.
Mark Williams: Your Partner in Emiratisation
At Mark Williams, we passionately support the Emiratisation initiative, recognising the value of nurturing local talent for a vibrant business environment. Our expert team is dedicated to helping businesses seamlessly navigate the Emiratisation process, facilitating connections with top Emirati professionals that align with their culture and goals. We aim to bridge the gap between organizations and skilled Emirati talent, supporting the achievement of Emiratisation targets while promoting UAE nationals' career growth. Amid rapid socio-economic transformation, let Mark Williams be your trusted partner in fostering local talent and contributing to the UAE's thriving future.
Remember, Emiratisation is not just about meeting a deadline or avoiding fines – it's about valuing local talent and contributing to the UAE's vibrant future. Let's work together to make it happen!