In a rapidly developing business landscape like the United Arab Emirates (UAE), the need for local talent is more pronounced than ever. As part of the UAE's Emiratisation strategy, businesses are encouraged to hire UAE nationals, tapping into a skilled and passionate workforce, full of Emirati talent. In this blog post, we'll walk you through a step-by-step guide to hiring UAE nationals, enabling you to contribute positively to the Emiratisation initiative.
Step 1: Understanding Emiratisation
The first step in the process of hiring Emirati talent is understanding the concept of Emiratisation. This strategic initiative by the UAE government aims to integrate UAE nationals into the private sector, thereby creating sustainable future for UAE citizens and reducing unemployment for emiratis. Knowledge of Emiratisation isn't merely a legal requirement, but it is an opportunity to access a pool of unique talents and perspectives that Emiratis bring to the table.
Step 2: Identify the Role and Skills Required
With a clear understanding of Emiratisation, it's crucial to identify the roles in your organisation that can leverage the multifaceted abilities of Emirati talent. UAE nationals possess a broad range of skills encompassing technology, engineering, finance, management, and other essential business functions. However, they also shine in areas like education and have a plethora of overall experiences and dynamic personalities. These traits, coupled with their local insights, cultural understanding, and unique competencies, can be particularly valuable. Hence, identify positions where these skills can be effectively applied, elevating your organisation to new heights.
Step 3: Source Candidates

Finding Emirati talent demands targeted strategies. While online job portals can be useful, they present challenges like validating information and communication management. Networking at local events can yield direct engagement with potential candidates, offering a deeper understanding of their skills. Moreover, having internal or external recruitment specialists can streamline this process, making it more efficient in connecting businesses with the Emirati talent they need.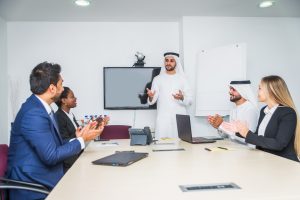 Step 4: Interview and Selection Process
During the hiring process for Emirati candidates, it's essential to remember the influence of cultural norms and familial involvement. Often, families play a significant role in their members' career decisions, so ensuring they are comfortable throughout the process is key. Maintaining respect for traditions and customs aids in fostering a conducive environment for dialogue. Obtain insights about the candidates' skills and experiences, while simultaneously measuring their alignment with your company culture. An inclusive and considerate workplace is a magnet for Emirati talent, encouraging both attraction and retention.
Step 5: Onboarding and Training
After choosing the ideal candidate, initiating a well-rounded onboarding process is vital. Providing training, particularly through reputable institutions like Abu Dhabi Global Market Academy (ADGM Academy) and its School of National Development, can help bridge skill gaps. ADGM Academy specializes in enhancing the skills of Emiratis, helping them to excel in their roles. They are currently offering free training to recently hired emiratis. This emphasis on training will not only boost the confidence of your new hire but also contribute to your organisation's growth by nurturing well-prepared, capable employees.
Step 6: Retaining Emirati Talent
Hiring Emirati talent is just the first step. Retention is equally crucial. Creating a supportive work environment that respects and nurtures Emirati traditions and values can help in retaining UAE nationals. Provide opportunities for growth and advancement, recognise achievements, and foster open communication.
Emiratisation is more than just a quota to fill; it's a strategic initiative that brings long-term benefits to your company. By hiring UAE nationals, you are investing in a passionate, dedicated, and culturally attuned workforce that can drive your company's success. Implement these steps to attract and retain Emirati talent and contribute to the UAE's vision for a sustainable and diversified economy.
Mark Williams is committed to supporting Emiratisation by helping employers connect with highly skilled UAE nationals. We provide end-to-end recruitment solutions, from sourcing candidates to facilitating interviews and onboarding. With our in-depth understanding of the Emirati job market and robust network of professionals, we have become a trusted partner for companies looking to diversify their workforce and contribute to the UAE's vision of emiratisation.